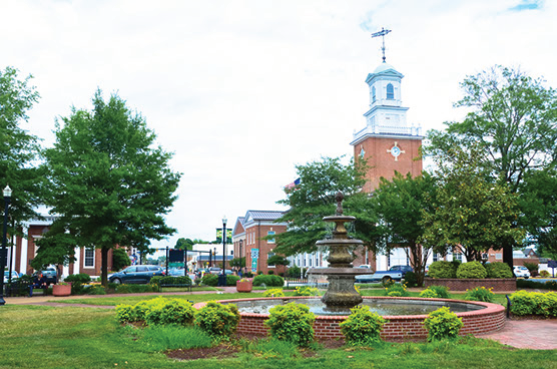 Shortly after the boundary dispute between the heirs of William Penn and Lord Baltimore was settled in 1775, and Sussex County was expanded to its present borders, two petitions signed by 979 inhabitants of Sussex County were presented to the General Assembly praying that the county seat would be removed from Lewes and be more centrally located.
On January 29, 1791, an act was passed authorizing the removal of the county seat from Lewes to a new site at "James Pettyjohn's old field," near the center of the county. The same act named George Mitchell, Robert Houston, William Moore, John Collins, Nathaniel Young, William Perry, Rhoads Shankland, Woodman Stockley, Daniel Polk, and Thomas Batson as commissioners and charged them to purchase up to 100 acres of land and construct a new courthouse and jail.
On May 9, 1791, the commissioners met at the house of Abraham Harris and negotiated the purchase of 50 acres from him, buying also 25 acres from Rowland Bevins and one acre from Joshua Pepper. Commissioner Rhoads Shankland began to survey the town the same day.
On October 26, 1791, the General Assembly officially removed the Seat of Justice to the new County Seat and named it Georgetown in honor of Commissioner George Mitchell, who was active in the movement to centralize the County Seat.
The town's center, "The Circle," is listed in the National Historic Record and is dominated by the red brick Greek revival courthouse built in 1839. The towns' original Courthouse is located just off The Circle on South Bedford Street.
Georgetown is the home of the Return Day celebration. Every two years, The Circle is the center of Return Day activities, an event celebrated on the Thursday after the General Election in November. Return Day is highlighted by a parade, the reading of election results from the Courthouse tower, and the "burying of the hatchet."